I thought since on my book blog today I'm sharing 20 Bookish Facts About Me HERE I would also share 20 Facts About Me on Voluptuous Chatterbox.. Here goes!
1, My name is Kerry-Ann! (For those that don't know)
3, My favourite flowers are Tulips
4, I work full-time for an insurance company
5, My dream is to have my own business (will not tell you doing what)
6, Another is to see my name in print
7, I'm obsessed with Paris and New York
8, I WILL have breakfast at Tiffanys (my boyfriend will have something to say about this)
9, My sister is my best-friend - I tell her everything! (Literally)
10, I have a shopping addiction and will NOT seek help
11, My favourite chocolate is Ferrero Rocher
12, I am a Vegetarian
13, I love taking Selfies
14,

My favourite colour of clothing is black! There's so much to style with it!
15, My family used to compare me to Wednesday Adams as a child..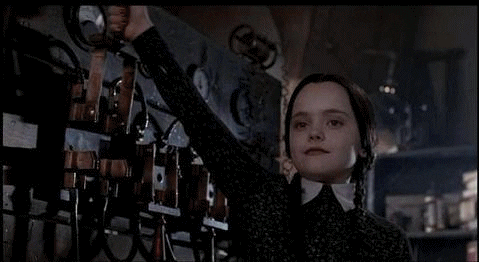 16, Queen are my favourite music band with 30 Seconds to Mars coming in second
17, My favourite colour is Pink
18, I tend to be drawn to Glittery items
19, My favourite genre to read is Romance though I don't write it!
20, I have pairs and pairs of high heels which I've never worn! (2016 is my year need to start use of them!)
Have you got any facts about you to share? Have you done a post like this? Comment with a link so I can check them out!